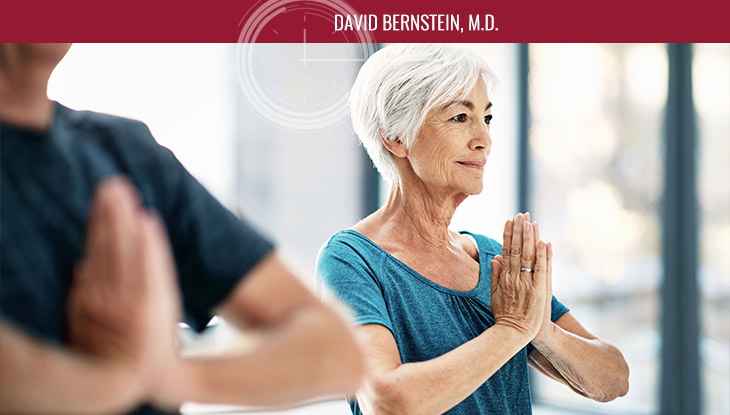 There are many family members, friends and patients who have inspired me over the years.
My aunt Flo, who I have acknowledged in two of my three books (she also inspired me in Senior Driving Dilemmas, but that is another story altogether), has led a life that corresponds to the 5 items of GRACE and the Power of 5. Her kind spirit prompted her to remember to call her favorite nephew (me) before the recent hurricane to ensure I was safe. There is a certain deep sense of caring that comes out when we openly appreciate those around us.
I was inspired many years ago by another patient who had made her presence known as a character in both of my books as well. It related to her joy of physical activity and in particular yoga. One day in one of my exam rooms, I disclosed to her that I had started to do yoga. She was delighted and exclaimed, "Dr. Bernstein, yoga is a non-judgmental activity. No one will ever judge how much or how little you do in class, just keep trying your best and you will get better with each session"… she was absolutely right.
This morning was a perfect example. I was in class (Body, Mind and Fusion) accompanied by my lovely wife Melissa. We were both doing just fine. As we turned to the side of the room, I was not able to follow how she was doing a particular posture but I did see another woman, and I was able to see how she was doing the routine. It was very helpful to mimic her movements as they were new to me. I had met this woman (fictitious name Lonnie) at a previous session, and I was immediately inspired by her. She told me that she had started doing yoga and other such activities 45 years ago after being diagnosed with a serious spine condition and she had declined surgery. Now in her 80s (I do not ask women their age except in my office where it might be an important factor), I was following her as she easily performed a routine that was a major challenge for me. Her movements inspired me to do my best and that no one would judge how much or little I was able to do in the session.
Thank you, Lonnie.
Who will you inspire or be inspired by in 2018?
To a long and healthy life,
David Bernstein, MD