Keeping cool in July and throughout the summer is always on the forefront of our minds. My granddaughter, Liv Aurora, is kicking off the July festivities this year with a tasty red, white and blue popsicle. Yum!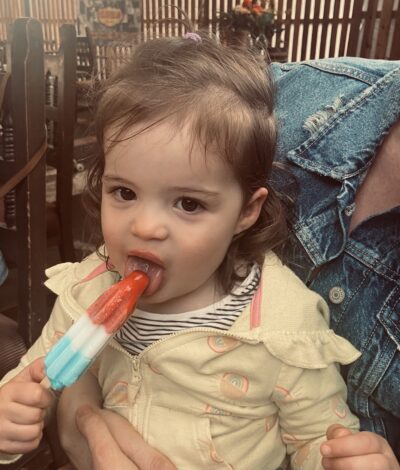 Picnic season always seems to take off in July, and that usually means we're firing up the grill. So this year, we'll be sharing recipes perfect for your Fourth of July picnic (or any other picnic!). Today, I'm sharing my recipe for a marinated carrot "hot dog"! Have you ever tried one?
They are delicious with just the right balance of smoky flavors and texture—you'll be quite satisfied knowing it is one of the healthiest "hot dogs" you will ever eat!
And, of course, there are all the benefits of eating carrots. They are low in calories and carbs and high in fiber, beta-carotene, vitamin C, niacin, vitamin A, calcium, potassium, magnesium, and phosphorus. In my opinion, carrots are a superfood!
Fun fact: I enjoyed my first carrot "hot dog" at Buffalo's famous Ted's Charcoal-Grilled Hot Dogs which opened its first drive-in stand in 1927. My 96-year-old mother (who is still with us) was three years old when the first hot dog stand opened. I love that I was able to maintain my eating lifestyle at a restaurant where they cater to those enjoying a diet of hot dogs and fast food! Ha!
After my great "hot dog" experience at Ted's, I decided to put this recipe together for you. So give it a try! With a bun, topped with all the fixins'—you won't be sorry!
As my mother always says, "Eat your carrots! They will make your eyes sparkle!"
To Healthy Eating!
Melissa
PS: Be sure to check out my newly-published Power of 5 Test Kitchen Cookbook: Caregiver Edition! Here's a bit about it: Full of recipes, helpful hints, and the tools you need to promote safe and meaningful engagement for those challenged with an illness. Your kitchen can be a place where fun and health flourish, no matter the challenges you face.
The Power of 5 Test Kitchen Cookbook: Full Edition will release in Fall 2021 with many more time-tested, healthy Power of 5 recipes. There's even a section for healthy Power of 5 dog treats! Stay tuned.
PPS: Remember to follow me in the Power of 5 Test Kitchen and join in the happenings!
Roasted Carrot "Hot Dog"
Roasted and marinated whole carrots are a deliciously flavorful healthy alternative to traditional hot dogs!
Ingredients
8

medium

Organic carrots

Clean with a vegetable brush and trim ends.

2

Tbsp.

Extra-virgin olive oil

1/4

cup

Vegetable broth

Low-sodium preferred.

1/4

cup

Bragg apple cider vinegar

2

Tbsp.

Bragg Liquid Aminos

Or soy sauce (low-sodium) or Tamari may be used.

1

tsp.

Maple syrup

1/2

tsp.

Garlic powder

1/2

tsp.

Smoked paprika

1/2

tsp.

Liquid smoke

8

Hot dog buns

Ketchup

For serving.

Mustard

Yellow or spicy brown—your choice.

Chopped onions

For serving.

Pickle relish

For serving.
Instructions
Add the carrots to a small roasting pan and toss with olive oil.

In a small bowl, make the marinade. Whisk together veggie broth, apple cider vinegar, liquid aminos, maple syrup, garlic powder, smoked paprika, and liquid smoke. Pour the mixture over carrots and cover pan with foil. Let sit for 30-45 minutes, rotating several times to be sure all carrots marry with the marinade.

Preheat oven to 425°F. Place the foil-covered baking dish in the oven and roast carrots for 30 minutes. Remove the foil and roast for another 20-30 minutes, until the carrots are just tender enough to stab with a fork.

Chop onions (or other toppings of your choice).

Place carrots in hot dog buns, then serve with condiments of your choice.
Notes
Melissa's Modifications: When marinating, I find it is easier to put the carrots and oil in a freezer bag, then I pour the marinade right into the bag along with the carrots. It is easier to move around and make sure the marinade does its thing! Once you are ready to cook, you can use the oven method as I described above OR put the carrots right on the grill, turning often to be sure they cook well and get nice charcoal markings. 
Be sure to cut the carrots bun length or make a footlong! 
Nutritional Value: 1 Serving: 249 calories with hot dog bun; 7.5g Fat; 0 Cholesterol ; 507mg Sodium;40.7g Carbs -4.7 g Fiber - 11g Sugar; 5.5g Protein 
Without the roll  - 129 Calories; 6g Fat; 307mg Sodium; 17.7 g Carbs-3.7g Fiber-9g Sugar; 1.5g Protein.
Nutrition