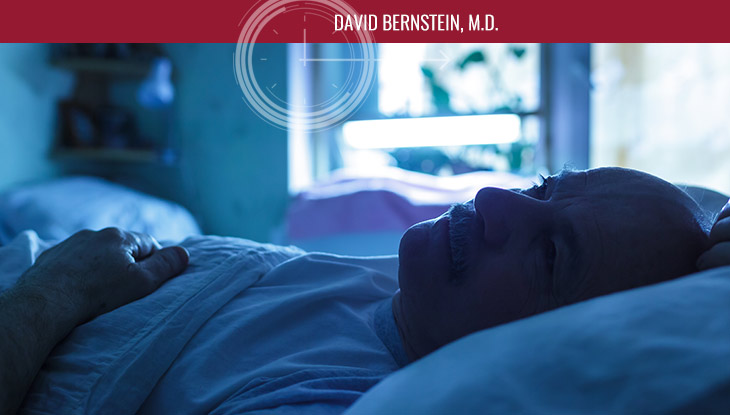 People often ask me about writing a book, and in particular, the act of self-discovery that occurs in the process. Developing the content in the Power of 5 is an example of just that. As I explored the five most important health habits facing our society, I realized I too could benefit from making changes just as my readers and patients could.
With regard to sleep, the truth is, I felt it was a given that physicians would live a life full of interrupted sleep and that would just be another one of those "occupational hazards." Little did I realize just how dangerous the hazard would be, and since that time I have put in a concerted effort to correct the errors of my way. I have to admit there have been times I have become indigent with people or situations that interrupt my sleep.
I now devote a portion of time to all new patient visits and almost all regular follow-up visits inquiring about my patients' quality and duration of their sleep. Here's why.
According to the American Sleep Association:
48% report snoring.
37.9% reported unintentionally falling asleep during the day at least once in the preceding month.
4.7% reported nodding off or falling asleep while driving at least once in the preceding month.
Drowsy driving is responsible for 1,550 fatalities and 40,000 nonfatal injuries annually in the United States.
Insomnia is the most common specific sleep disorder, with short-term issues reported by about 30% of adults and chronic insomnia by 10%.
25 million U.S. adults have obstructive sleep apnea and 10 million remain undiagnosed.
9-21% of women have obstructive sleep apnea.
24-31% of men have obstructive sleep apnea.
3–5% of the overall proportion of obesity in adults could be attributed to short sleep.
Here are some other statistics worth noting:
There is a general consensus that adults require an average of 7-8 hours of sleep each night.
As much as 35% of the adult population get less than 7 hours of sleep each night.
Sleep problems add an estimated $15.9 billion in health care costs each year.
20-40% of all adults have insomnia in the course of any year.
A few weeks ago, on a single day, I had the great satisfaction of having office visits with three patients who I successfully diagnosed with sleep apnea. At the time of their diagnosis, they were totally unaware that they had the condition and had no idea of the serious consequences of untreated sleep apnea (hypertension, obesity, and heart attacks to name just a few). One of those patients had already had a cardiac bypass several years prior to becoming my patient and being treated. All three patients that day told me that they never miss a night's sleep without their CPAP machine and take it with them whenever they are out of town. By accepting treatment for their sleep disorder (sleep apnea), they are addressing one of the five major conditions addressed in The Power of 5: the ultimate formula for longevity and remaining youthful.
If you or a loved one has symptoms of sleep apnea, consult with a healthcare professional and be open minded to treatment.
To a long and healthy life,
Dr. Bernstein